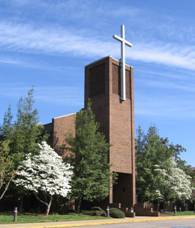 4400 Beulah Road, N. Chesterfield, VA 23237
Phone (804) 275-7962 / Fax (804) 271-4604
"The Mission of St. Augustine Catholic Church is provide a community where people of all nations can encounter Christ through, the proclamation of the Word of God, the celebration of the Sacraments and service of our brothers and sisters."
Welcome to Saint Augustine Catholic Church! Our parish marks June 10, 1973 as the official date of founding. Our beloved Monsignor McMahon arranged to have Mass celebrated earlier than that because the need was so great. On Saturday, April 14, 1973 our very first Mass was celebrated at Bensley Elementary School. To learn more, please visit the "Our History" page.
Mass Times/Horario de Misa
Weekday Liturgies/Misa Ferial
No daily mass on Monday
Tuesday, Wednesday Friday 9:00 AM English
Jueves 7:00 PM Español
(Always check the parish calendar  for changes)
Weekend Liturgies/Misa Dominical
Sat. Vigil 4:30pm
Sun. 8:30am & 11:15am (English) and
1:15pm & 6:00pm (En Español)
Reconciliation/Reconciliación
Every Saturday from 3:15 pm to 4:15pm
Cada Sábado de las 3:15 hasta las 4:15 de la tarde
Recent Posts
Liturgical Announcements...
LITURGICAL ANNOUNCEMENTS September 15, 2019 AFTER 8:30 AM MASS 1. New member welcoming will take place today after mass in room PC 3 as well as Poorbox Breakfast in the hall. ALL MASSES 1. Thank you to those who attended our first adult faith formation last Sunday with Father Wayne. Our next adult faith formation is in October 13. 2. Thank you to those who have helped in the office so far. …

(Read more)
Recent Posts
Anuncios litúrgicos...
ANUNCIOS 15 de septiembre, 2019 TODAS LAS MISAS 1. Para información sobre las actividades consúltense al Boletín. 2. Invitamos a adultos que no necesitan sacramentos a participar en un curso sobre los fundamentos de la fe. Para más información y para anotarse comunicarse con Amanda Roberts en la oficina. 3. La escuela San Andrés en partirá curso Juan 21-22 y 28 -29 de septiembre. Requisitos haber tomado Emaús. …

(Read more)
Daily Reading
Daily Reading...
Reading 1 1 Tm 2:1-8 Beloved:First of all, I ask that supplications, prayers,petitions, and thanksgivings be offered for everyone,for kings and for all in authority,that we may lead a quiet and tranquil lifein all devotion and dignity. This is good and pleasing to God our savior,who wills everyone to be savedand to come to knowledge of the truth. For there is one God. …

Read More »
Bulletins
Directions
From 150 N/Chippenham Pkwy take 637/Hopkins Rd exit. Then in approximately 1.5 miles bear right only Beulah Rd.
De la carretera 150 N/Chippenham Pkwy toma la salida para calle  637/Hopkins Rd. Luego en aproximadamente 1.5 millas dobla a la derecha en Beulah Rd.
Fr. Wayne's Reflections on the Reading